Key Points of this Article:
The world seemed to pause, collectively holding its breath while watching Kyrie Irving face an unyielding torrent of scathing critiques and personal assaults. Finally ensnared and strung up in the unforgiving tree of public opinion, key figures in this ruthless display rejoiced while Irving's lifeless form swayed from the tree, and all of America trembled in collective sorrow.
Numerous headlines pertaining to the incident inundated the internet. However, Rolling Stone staff writer Jon Blistein composed a particularly colorful article that encapsulated the general consensus of news media, and other members of the confederacy who hung Irving out to dry. Blistein boldly confronted Irving, charging him with promoting an antisemitic film featuring Jewish-operated slave ships, decrying:
"The video is based on a venomously antisemitic book which asserts that 'many famous high-ranking Jews' have 'admitted' to 'worship[ing] Satan or Lucifer'."
He chastised Irving for associating himself with a movie that purportedly advocates radical beliefs, then forebodingly delved head first into the indecipherable Black Hebrew Israelite movement to slanderously insinuate guilt by association.
Black Semites who the Anti-Defamation League has pejoratively labeled "Black Hebrew Israelites"  and the Southern Poverty law Center has stigmatized as an radicalized extremist hate group noted, "As long as we are legally allowed to do so, we will peacefully protest," in support of Irving's right to peaceably watch a movie on Amazon, then post a link, said Deacon Eythan of Israel United in Christ. Eythan continued, "Kyrie Irving himself understands that not only are we Semitic ourselves, but it is contradictory and hypocritical to say that someone is anti-Semitic when they are Semitic."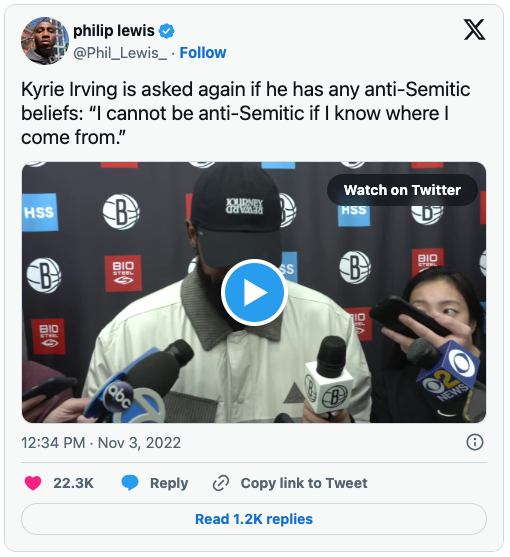 Should sharing a link to a cinematic production be considered an endorsement and promotion of its contents, then a vast number of United States citizens would be culpable for advocating the grisly mass homicide and firearm aggression depicted in innumerable prominent Hollywood films disseminated on social media platforms daily.
♥
Fusion of artistic expression and cinematography has seldom provoked such a substantial and vehement reaction. Each ethnicity has cinematic representations that depict them in a derogatory or stereotypical fashion, which they find disconcerting.
Instead of propagating assumptions concerning the director's conviction and intentions, the central argument of the confederacy's denunciation of Irving is predicated on his purported anti-Semitism, a fact that would need to be substantiated in order to corroborate their conduct. Irving's then employer issued a statement calling him "unfit to be associated with the Brooklyn Nets" and penalized him with a five games minimum suspension without pay.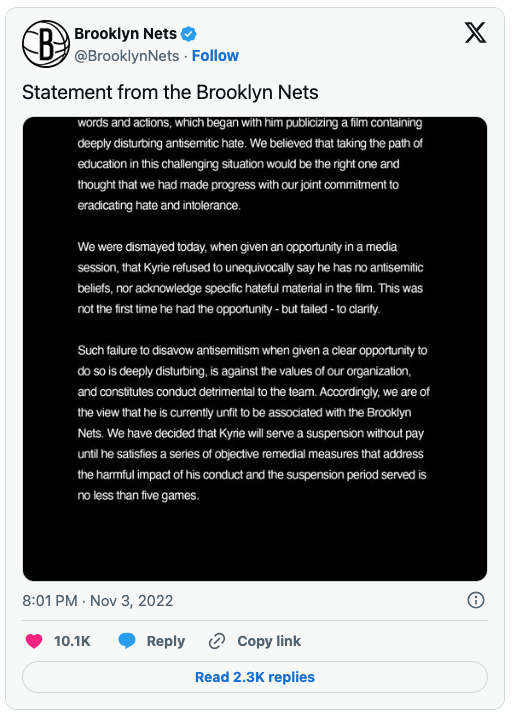 Furthermore, he experienced the forfeiture of multi-million dollar endorsements and sponsorships as a consequence of disrepute. "Kyrie stepped over the line. It's kind of that simple," Nike co-founder Phil Knight told CNBC on Nov. 10, 2022. "He made some statements that we just can't abide by, and that's why we ended the relationship. I was fine with that."
Unlike Irving's professional contracts, the definition of anti-Semitism used to impute infamy to him is a non-legally binding "working" definition that cannot be enforced in a court of law.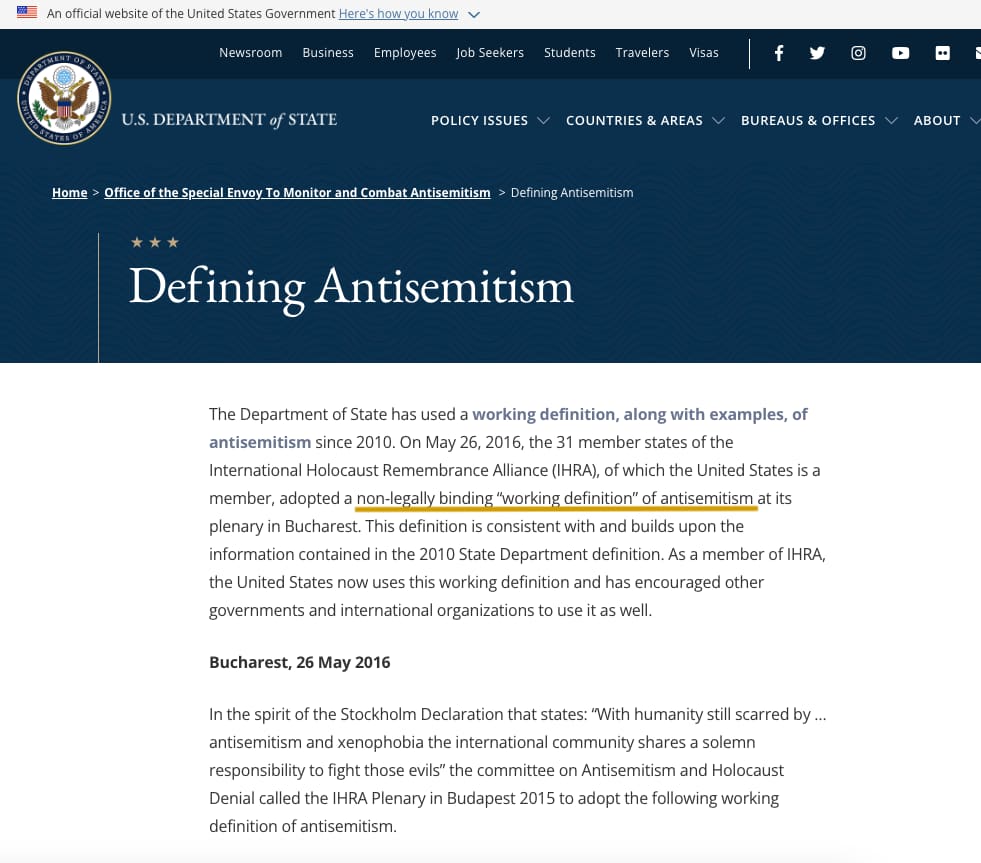 It was artificially manufactured by the IHRA (International Holocaust Remembrance Alliance) and adopted May 26, 2016, then dispensed to United Nations member states for endorsement.
(NOTE: ADL (Anti-Semitism Defense League) Fact Sheet on Semitism helps educate on the literal connotation and legal definition of anti-Semitism, which encompasses all Semitic persons instead of one specific group).
United States endorsement of the discriminatively segregative non-legally binding redefinition was obtained December 11, 2019 by way of Executive Order 13899, to be applied within the strict confines of Title VI of the Civil Rights Act of 1964 (Title VI), 42 U.S.C. 2000d et seq., "Title VI does not cover discrimination based on religion," says the Executive Order. "Discrimination against Jews may give rise to a Title VI violation when the discrimination is based on an individual's race, color, or national origin," due to the Order's Rules of Construction:
"Nothing in this order shall be construed to alter the evidentiary requirements pursuant to which an agency makes a determination that conduct, including harassment, amounts to actionable discrimination, or to diminish or infringe upon the rights protected under any other provision of law."
The Executive Order did not generate supplementary rights or modify pre-existing legislation. Instead, it instituted an administrative policy specifically for addressing alleged violations of Title VI relating to Jewish individuals, ensuring that their treatment aligns with that extended to all others safeguarded under Title VI.
Moreover, Title VI solely encompasses "programs and activities that receive Federal financial aid". Unless The Brooklyn Nets, Nike, and other members of the confederacy can prove that Kyrie Irving was participating in a federally funded program or activity during which he discriminated against the equal rights of Jewish persons, they have committed a gross error that carries civil and criminal liabilities.
♥
It is common knowledge that Irving was coerced into a public apology for posting a link to a film on Amazon using adverse publicity. In the Anti-Defamation League's Statement on Kyrie Irving's Apology, CEO and National Director Jonathan A. Greenblatt said the following:
"This is an encouraging step from Kyrie. But actions speak louder than words. Because of his post and previous refusals to walk it back, the antisemitic film/book is now a best seller in multiple categories on Amazon.  There is a lot more to do to undue this damage."
Greenblatt was the outspoken unofficial cheerleader for the illegal social mob lynching of Kyrie Irving. When Nets Daily asked for a comment about Irving allegedly promoting the film, the Nets replied: "The Brooklyn Nets strongly condemn and have no tolerance for the promotion of any form of hate speech. We believe that in these situations, our first action must be open, honest dialogue. We thank those, including the ADL, who have been supportive during this time."
Both Irving and the Nets pledged to donate $500,000 each towards "causes and organizations that work to eradicate hate and intolerance in our communities," and both parties stated they would work with the Anti-Defamation League, whose stated mission is "to stop the defamation of the Jewish people and to secure justice and fair treatment to all."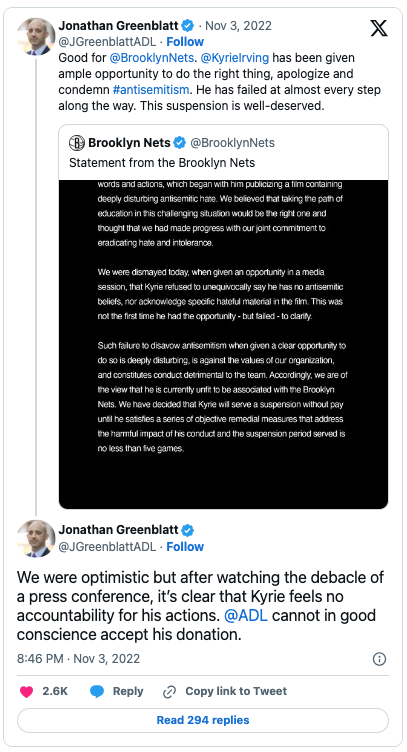 God alone knows the depth of the wounds inflicted by the harrowing whiplashes sustained by Irving. It is fortuitous that any deeds or omissions, encompassing agreements and contracts, conducted under menace and coercion are legally subject to invalidation. The absence of unlawful influence and manipulation is requisite for their validity.
In order to establish a claim for breach of contract, the party alleging the breach must prove that there was a valid contract between the parties, that the party alleging breach performed or was ready to perform their contractual obligations, and that the other party failed to perform their obligations under the contract. Additionally, the non-breaching party must demonstrate that they suffered damages as a result of the breach.
Even if Irving's contract stated specific restrictions on his social media behaviors or freedom of expression within specific guidelines, there would still be grounds for material breach if those guidelines denied him equal protection under the law in an arbitral manner due to external pressures. He possesses two options: initiate legal proceedings against his previous employer in a court of law, or engage in Alternative Dispute Resolution (ADR), after having examined the problems associated with ADR.
An antiracist federally licensed attorney of good rapport could additionally evaluate a litany of other civil claims on Irving's behalf under numerous provisions, including but not limited to:
Moreover, it is necessary to determine if Irving's decision to delete the social media post and issue an apology was made under coercion from his employer. Such coercion could indicate that his employer may have breached their contractual obligations by subjecting him to unreasonable pressure or ultimatums based on external influencers or news outlet opinions.
Nets owner Joe Tsai issued a statement on Twitter expressing that he  was "disappointed that Kyrie appears to support a film based on a book full of anti-semitic disinformation." He added in a follow-up tweet, "This is bigger than basketball."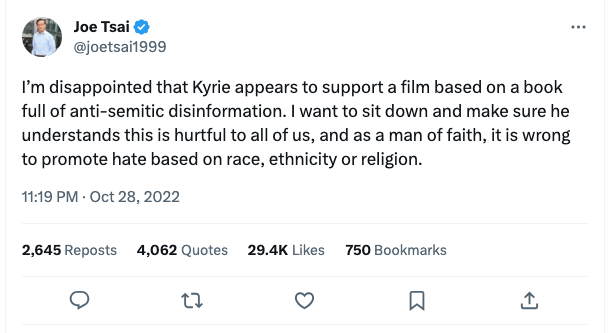 In addition to breach of contract and civil claims, it is essential to explore potential criminal charges stemming from the defamation and unjust pressure to silence Kyrie Irving. A criminal conspiracy exists when two or more people agree to commit an unlawful act, and at least one of them takes a step towards completing that act.
Federal prosecutors could institute felony criminal charges against corporate officers of The Brooklyn Nets, Nike, Anti-Defamation League, and the countless news outlets who participated in the conspiracy to deprive Irving of civil rights under the provisions of Title 18:
In this situation, it would be crucial to investigate whether any parties actively conspired in efforts to intimidate or coerce Irving into deleting his social media post and apologizing publicly. This could include examining communications between his employer and news outlets, among other potential co-conspirators, to determine if any explicit agreements or plans were made to deprive Irving's rights, such as his right to free speech and equal protection under the law.
♥
Relying upon Almighty God to strengthen him and the sincere belief that truth and righteousness would prevail, Irving remained positive, professional, and kind throughout his public flogging. "I stand by who I am and why I apologized," he said. "I did it because I care about my family and I have Jewish members of my family who care for me deeply. Did the media know that beforehand before they called me that word anti-semitic? No. Did they know anything about my family? No," he continued. "I stand by my apology and I stand by my people."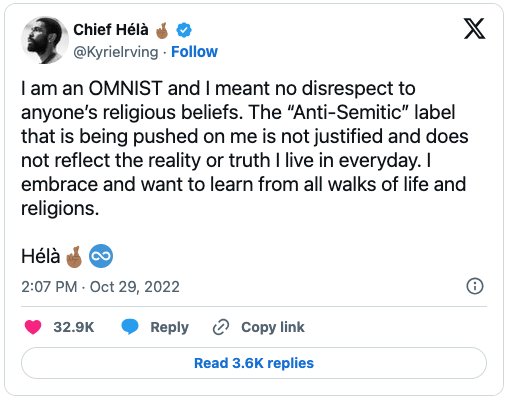 It is important to examine if the targeted attack on Kyrie Irving's character and reputation aligns with defamation. Defamation occurs when someone communicates a false statement that damages another person's reputation. This could include spreading misinformation surrounding Irving's beliefs, accusing him of being anti-Semitic, or inciting hostility against him. In this case, there might be solid grounds for legal action if evidence shows that defamation transpired during these events.
Alarmingly, there was a legion of media outlets guiltily complicit in the widespread misinformational propaganda lunged against Irving, responsible for his defamation punishable under the laws of every State. A few of them are:
The most disconcerting aspect of the situation lies in its extensive consequences for the entirety of the American population. In a satiric twist, Greenblatt and the Anti-Defamation League have an intimate relationship with the Federal bureau of Investigation related to civil rights and hate crime. "The FBI works with the ADL to host civil rights and hate crime training for our state and local counterparts through a number of programs."
In addition to co-creating the "Hate Crimes Training Manual" for law enforcement across the country, they established the "Law Enforcement and Society" mandatory training for all new FBI agents and active U.S. law enforcement personnel. Having a hand in the development of the FBI's Uniform Crime Reporting (UCR) program, the Anti-Defamation League misleadingly asserts, "Jews are consistently the most targeted religious community in the U.S.":
"According to the FBI's annual data on hate crimes, defined as criminal offenses which are motivated by bias, crimes targeting the Jewish community consistently constitute over half of all religion-based crimes."
"The FBI collects these data through the Uniform Crime Reporting Program's Hate Crime Statistics Program," according to the FBI's Data Declaration. What is often overlooked is that the data collection system does not encompass the Baptist denomination, which is historically associated with the Black community.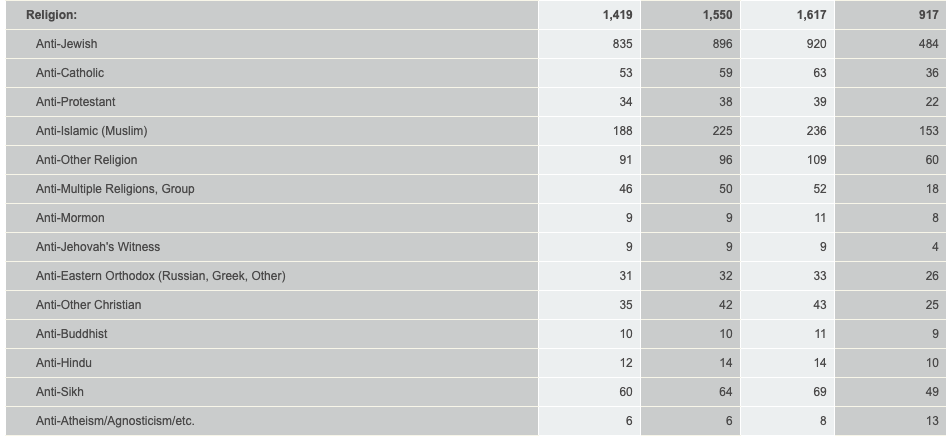 The same data set demonstrates that Blacks are the primary target of hate crimes. Jonathan A. Greenblatt and the Anti-Defamation League present data pertaining to religion, wherein the Black population is excluded despite being the most religious group in the country. Consequently, this enables them to erroneously assert that Jews are the primary victims of hate crimes, despite being aware that the data indicates otherwise, with the Black community being the most targeted group.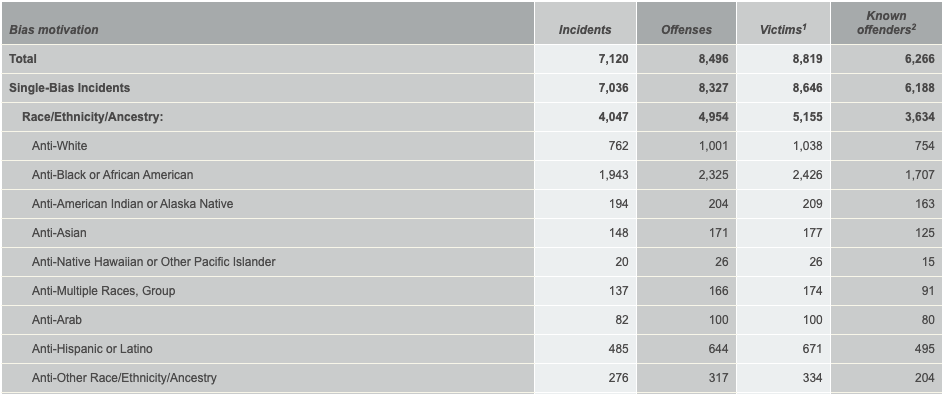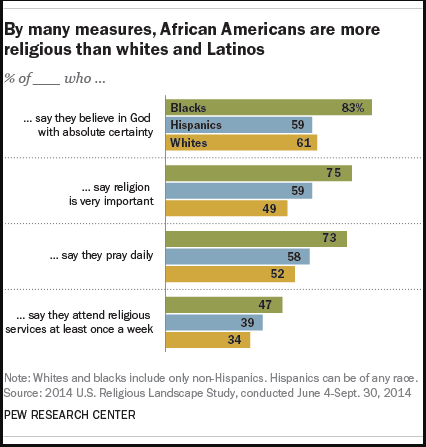 Race/ancestry/ethnicity "continues to be the largest bias motivation category" for hate crime according the the U.S. Department of Justice. "Anti-Black or African American hate crimes continue to be the largest bias incident victim category, with 2,871 incidents in 2020, a 49% increase since 2019."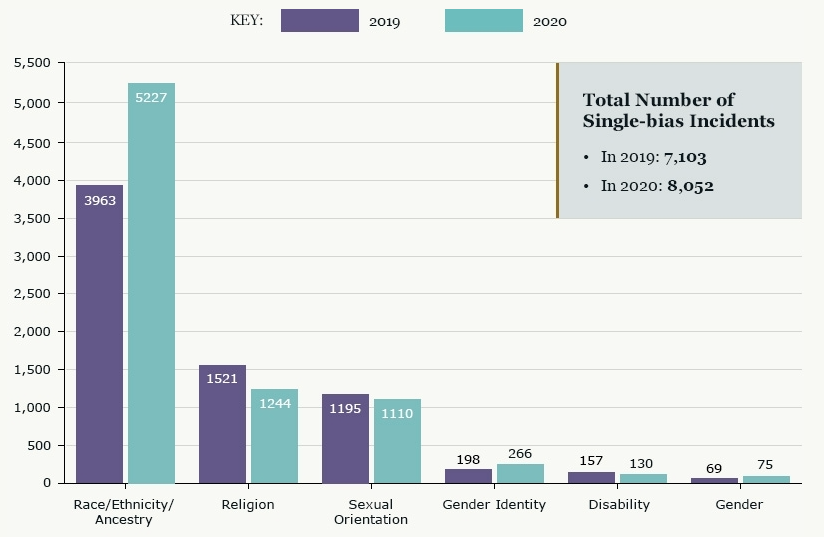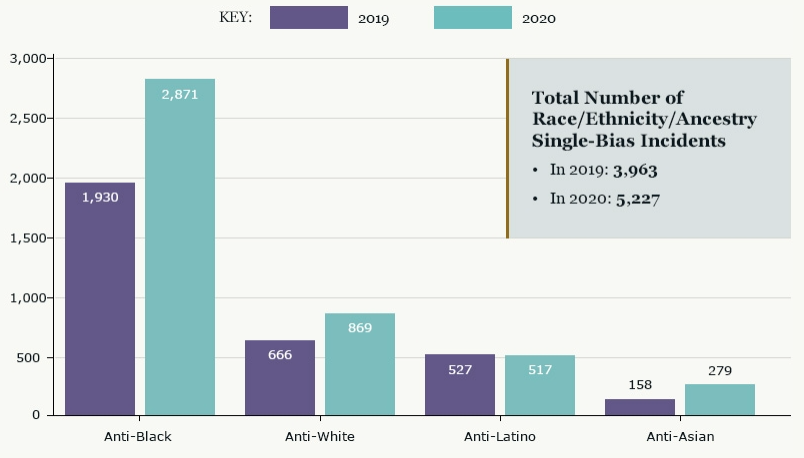 Authoritative statistics from the Federal Bureau of Investigation and the United States Department of Justice confirm that hate crimes targeting Blacks are the most prevalent, and are escalating at a remarkably rapid pace."It is unacceptable that Jews and Jewish institutions continue to be at the center of religion-based hate crime attacks," alleges Anti-Defamation League CEO and National Director, Jonathan A. Greenblatt. "We need to take concrete action to address and combat this significant problem." Greenblatt misrepresents the situation faced by the Jewish community, employing partial truths to skew data and distort statistical information.
Utilizing media channels, he propagates misinformation that influences public perception and drives White House policy."We want to see the administration appoint a Jewish liaison at the White House," said Greenblatt on CBSN.
He continued, "We have been waiting for them to name a position at the State Department that is still vacant, the special envoy for antisemitism," and the appointment took place less than a year later.
Upon discovering that the Anti-Defamation League is responsible for training, sponsoring, and directing the nation's police force concerning civil rights and hate crime matters, and enjoys an uncanny ability to leverage media coverage, it becomes evident as to why Kyrie Irving and other Black Semites represent the highest targets of hate crime in the country but are without recourse when violations occur.